Going shopping
Save as PDF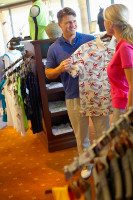 You are inside a store, wanting to ask the salesperson whether the t-shirt is available in a bigger size or whether the shoes are available in a smaller size. How do you do that in English again? How do you ask for a specific size? The following example sentences will help you to find the right words when going shopping.
Phrases for the start of a conversation
Salesperson
Customer
To politely ask something, the customer can start his or her question with "Excuse me, …".
Phrases for a consulting service
Salesperson
Customer
Phrases for the moment of payment and ending the conversation
Salesperson
Customer