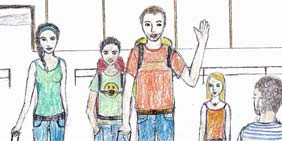 Join our guided language course and follow the Fernandez family to England. This course is suitable for beginners or intermediate learners who want to improve their language competency.
The individual units of the language course deal with the two important areas of vocabulary and grammar. Furthermore, they help you develop and improve your reading, listening, writing and speaking skills! Our many exercises and a final test make sure that you practice the contents sufficiently and improve your English competency.
Introduction of the Fernandez family
Andreas is a 37 year-old German. He has a daughter named Anna. Some years ago, he went to Brazil during his holidays. That's where he met Maria. Maria is Brazilian. She has a son named Pedro.
When Andreas was in Brazil, he fell in love with Maria. One year later, Maria and her son Pedro moved to Germany. Andreas and Maria got married. Andreas and his daughter Anna took Maria's family name Fernandez.
Maria and Pedro have lived with Andreas and his daughter Anna as a family in Germany for three years. Recently, Andreas' company asked him to move to Filton, England, the centre of the British aircraft industry. Our story starts with their flight to England.
A few facts about the Fernandez family:
Maria Fernandez

34-years old
home country: Brazil
mother tongue: Portuguese
works as a travel agent
personal interests: culture, languages, art
qualities: warm, open-minded, caring
foreign languages: English, Spanish, German
Pedro Fernandez

15-years old
Maria's son
home country: Brazil
mother tongue: Portuguese
school level: 8th grade
personal interests: music, playing the guitar, computer
qualities: intelligent, shy, warm
foreign languages: English, German
Andreas Fernandez

37-years old
home country: Germany
mother tongue: German
works as an aircraft structural engineer
personal interests: any kind of sport
qualities: sporty, open-minded
foreign language: English
Anna Fernandez

11-years old
Andreas' daughter
home country: Germany
mother tongue: German
school level: 5th grade
personal interests: football, reading, sport in general
qualities: self-confident, smart, sporty
foreign language: English