Demands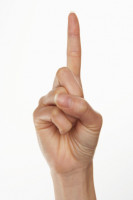 You use the
imperative
form when you tell someone what to do:
Johnny, come here!
Be quiet!
Julia, hurry up!
Go to bed!
Give me your book!
You always use the
infinitive
form of the verb. It doesn't matter if you talk to one or more than one person:
meet: Julia, meet me there! and Julia and Johnny, meet me there!
listen: Julia, listen! and Julia and Johnny, listen!
go: Julia, go away! and Julia and Johnny, go away!
When you tell someone NOT to do something, you use
"Do not/Don't"
: + the infinitive:
Johnny, don't hurry!
Don't look!
Julia, do not speak!
Don't go away!
Do not give it to him!
Read the text below. Find all the imperatives and click on them.
Choose a typical reaction to the imperative form.