The Adventures of Tom Sawyer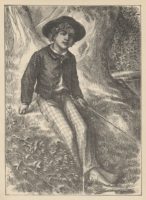 General information
duration: 6:46 hours (listening time)
niveau: C1
About the materials
Text
The text has been taken from
Project Gutenberg
. There you can also download the whole text.
Please keep in mind that the texts for our audio books are rather old. Therefore they may contain old-fashioned vocabulary with slightly outdated meanings.
Audio Book
The Audio Book has been taken from
Librivox.org
. There you can also download the whole audio book. Many thanks to John Greenman who recorded this audio book.
About the book
"The Adventures of Tom Sawyer" is a popular novel by Mark Twain. It was first published in England in June 1876, and in the U.S. by subscription only in December 1876. The story of Tom Sawyer has been filmed or animated many times since its publication. Some of the film adaptations of Twain's novel include silent film versions, television serials, musical versions and others. The character of Tom Sawyer has also appeared in many different television series that deal with completely other matters. In addition to film adaptations, there have also been stage musicals and theatrical adaptions of Twain's novel.
Plot
The novel is about a young boy called Tom Sawyer who grows up in a small town along the Mississippi River. Tom Sawyer lives with his Aunt Polly, brother Sid, and cousin Mary. He is a mischievous boy. He is not interested in school and continually recruits his friends to join him on his adventures. Some day, after skipping school and fighting with another schoolboy, Tom's Aunt Polly orders him to whitewash the fence that surrounds their property. Tom would rather go and play, so he tricks a schoolmate into whitewashing the fence for him. Tom then recruits his friend Huckleberry Finn. Huck is an even more mischievous boy and the neglected son of a drunk. Tom and Huck sneak out at midnight to a cemetery. While there, the two boys witness a terrible crime. To find out what the two witness and what more trouble Tom Sawyer causes, listen to the audio book.
About the author
Mark Twain (November 30, 1835 – April 21, 1910) was an American author and humorist. His real name was Samuel Langhorne Clemens. He achieved great success as a writer and public speaker. His very first publication was a humorous story, The Celebrated Jumping Frog of Calaveras County, which became very popular. Nowadays, he is most noted for his novels, The Adventures of Tom Sawyer (1876), and its sequel, Adventures of Huckleberry Finn (1885). Twain grew up in Hannibal, Missouri, which would later provide the setting for Huckleberry Finn and Tom Sawyer.