South Africa: The Rainbow Nation
In 1994, Archbishop Desmond Tutu described South Africa as "a rainbow nation at peace with itself and the world". The term was intended to encapsulate the unity of multi-culturalism and the coming-together of people of many different nations, in a country once identified with a strict division of white and black.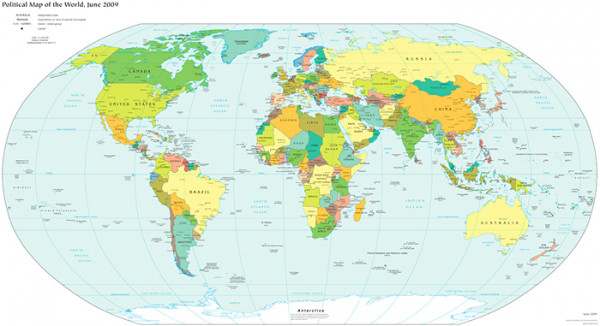 Overview
Flag
 




Anthem
National anthem of South Africa
Watch on youtube (with lyrics)

Capital

Pretoria (executive) / Bloemfontein (judicial) / Cape Town (legislative)
Largest city
Johannesburg
Official language(s)

Sepedi / Sesotho / Setswana / siSwati / Tshivenda / Xitsonga / Afrikaans / English / isiNdebele / isiXhosa / isiZulu
Ethnic groups

79.3% Black / ~ 9.1% White / ~ 9.0% Coloured / ~ 2.6% Asian

Demonym

South African
Government
Constitutional democracy
Area
1,221,037 km2, 471,443 sq mi
Population
~ 49 million
Currency
Rand (ZAR)
Internet TLD
.za
Geography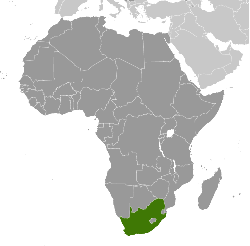 The Republic of South Africa is one of the 54 states of the African continent. Africa is the world's second-largest and second most-populous continent after Asia. South Africa is located at the southern tip of Africa and is the 25th-largest country in the world. It has a 2,798 kilometre (1,739 mi) coastline on the Atlantic and the Indian Oceans. To the north lie Namibia, Botswana and Zimbabwe, to the east are Mozambique and Swaziland. Lesotho, which is an independent country, is wholly
surrounded
by South African territory.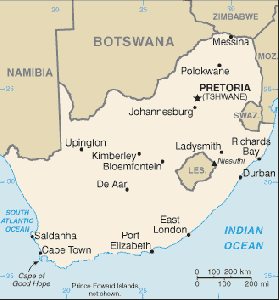 South Africa has three capital cities: Cape Town, the largest of the three, is the
legislative
capital; Pretoria is the
administrative
capital; and Bloemfontein is the
judicial
capital. The largest city in South Africa is Johannesburg with 8,837,000
inhabitants
. Cape Town, the legislative capital, is the second largest city in South Africa with 3,653,000 inhabitants.
Society and culture
South Africa is known for its diversity of cultures and languages. It may be argued that there is no single South African culture because of its ethnic diversity. Today, the diversity in foods from many cultures is enjoyed by all and especially marketed to tourists. In addition to food, music and dance feature prominently.
Population
South Africa is ethnically
diverse
. About 79.5% of the South African population is of black African
ancestry
. This majority still has a substantial number of rural inhabitants who lead largely
impoverished
lives. It is among these people, however, that cultural traditions survive most strongly. South Africa also contains the largest European, Indian and racially-mixed communities in Africa. About a quarter of the population is unemployed and lives on less than US $1.25 a day. Members of the middle class are
predominantly
white but also include growing numbers of black, coloured and Indian people.
Languages
South Africa has eleven official languages. According to the 2001 National
Census
, the three most-widely spoken first languages are Zulu (23.8%), Xhosa (17.6%) and Afrikaans (13.3%). Two of the eleven languages are of European
origin
: Afrikaans, a language which originated mainly from Dutch is spoken by the majority of white and coloured South Africans, and South African English. Though English has a large role in public and commercial life, it is
nevertheless
only the fifth most-widely spoken home language.
Religion
South Africa has a wide mix of religions. Many religions are represented in the ethnic and regional diversity of South Africa's population. According to the 2001 National Census, Christians accounted for 79.7% of the population. Muslims accounted for 1.5% of the population, Hindus for about 1.3% and Judaism for 0.2%. 15.1% have no religious
affiliation
, 2.3% have other religious beliefs and 1.4% were unspecified.
Government and politics
South Africa used to be divided into British and Dutch
colonies
. The country finally became a republic in 1961. The legal system is based on Roman-Dutch law and English common law. The country has a
bicameral
parliament: the National Council of Provinces (the upper house) has 90 members, while the National Assembly (the lower house) has 400 members. Elections for both chambers are held every five years. The government is formed in the National Assembly, which is the lower house. The leader of the majority party in the National Assembly is the President. Since 1994, the African National Congress (ANC) has been the dominant party in South Africa.
Economy
South Africa is a well-developed middle-income country. As of 2008, it was ranked 25th in the world in terms of
GDP
. Advanced development is
significantly
localised around the main cities. Beyond these economic centres, development is low and poverty is still
widespread
. South African exports include corn, diamonds, fruits, gold, metals and minerals, sugar, and wool. Imports include for example machinery and transportation equipment. The country is the largest energy producer and consumer on the continent. Being a popular tourist destination, a substantial amount of income comes from tourism.