Arranging to meet someone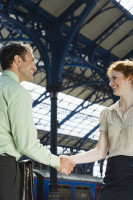 Read the first e-mail below. Then complete the answer by filling in the gaps. Use the same words as in the first e-mail.
Hi Maria,
How are you? What are you doing next Friday night? Why don't we meet and have dinner together? I can pick you up at 7 pm. I know a nice little restaurant! Please answer soon so we can arrange to meet. If you don't have time on Friday, please let me know. I am also free on Saturday. By the way, can I have your number?
Love, Tom