Wordlist:

Australia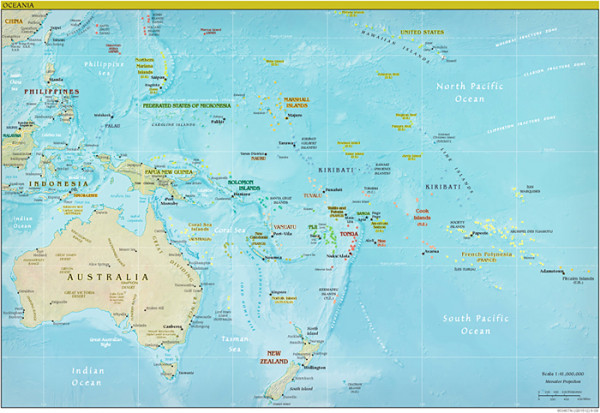 Vocabulary List
: Learn New Vocabulary
Get an overview of new vocabulary with help from the table. Then take a look at the vocabulary in more detail with definitions and examples in the slideshow.
| | |
| --- | --- |
| | the world's smallest continent |
| | a person who lives in or originates from Australia |
| | |
| | an island nation in the South Pacific Ocean about 2000 km north of New Zealand's North Island, comprising over 300 islands |
| | an island nation located in the central tropical Pacific Ocean, composed of 32 atolls and one raised coral island, dispersed over 3,500,000 square kilometres |
| | a Micronesian nation of atolls and islands in the middle of the Pacific Ocean, located north of Nauru and Kiribati, east of the Federated States of Micronesia, and south of the U.S. territory of Wake Island |
| | a subregion of Oceania, comprising thousands of small islands in the western Pacific Ocean, distinct from Melanesia to the south, and Polynesia to the east |
| | the world's smallest island nation, in Micronesia in the South Pacific with Banaba Island in Kiribati, 300 km to the east, as its nearest neighbour |
| | an island country in the south-western Pacific Ocean comprising two main landmasses (the North Island and the South Island), and numerous smaller islands, most notably Stewart Island/Rakiura and the Chatham Islands |
| | a country in Oceania, occupying the eastern half of the island of New Guinea and numerous offshore islands |
| | a country governing the western part of the Samoan Islands in the South Pacific Ocean |
| | a country in Melanesia, east of Papua New Guinea, consisting of nearly one thousand islands |
| | an archipelago in the South Pacific Ocean, comprising 169 islands, 36 of them inhabited, south of Samoa, about one-third of the way from New Zealand to Hawaiʻi |
| | a Polynesian island nation located in the Pacific Ocean, midway between Hawaii and Australia, with Kiribati, Nauru, Samoa and Fiji as its nearest neighbours |
| | an island nation located in the South Pacific Ocean, some 1,750 kilometres (1,090 mi) east of northern Australia, 500 kilometres (310 mi) northeast of New Caledonia, west of Fiji, and southeast of the Solomon Islands, near New Guinea |
Vocabulary Training
: Practice and Memorize Vocabulary
Enter the correct word in the text box and then confirm your entry. If you make a mistake, the word will be repeated automatically! Learn in many different ways with pictures, translations, and examples by customizing the vocabulary trainer to fit your needs.
Games and Quiz
: Have Fun With Vocabulary
Complete the word by entering the missing letters!
Click on the two cards that belong together!
MP3 and PDF Downloads
: Learn On the Go
Maximize your learning success by taking your learning on the go. Simply download vocabulary as an MP3 file and PDF document and learn whenever and wherever you want.